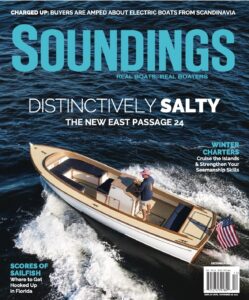 The team at East Passage Boatwrights is excited to announce that Hull #1 of the East Passage 24 made her debut at the 2021 Newport International Boat Show earlier this fall.
After turning heads at the boat show, including the editor of Soundings Magazine who put her on the cover of the December '21 issue, the classically inspired and traditionally built all wooden hull was put to the test on Narragansett Bay for her sea trials.  Designed by Walt Ansel, who brought over three decades of experience as a shipwright at Mystic Seaport Museum, and powered by a Yanmar 150HP turbo diesel, Hull #1 exceeded everyone's expectations effortlessly cruising at 15kts. And topping out at 24kts.
Hull #1 is available for sale and will be back on the water in the spring of 2022.  If you are interested in a sea trial, contact Carter Richardson at carter@latitudeyacht.com.