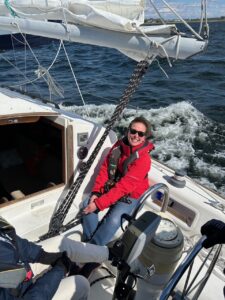 Fast Growing Brokerage Company Once Again Strengthens Resources
Newport, RI – Latitude Yacht Brokerage, LLC (www.latitudeyacht.com) announced in early August that Kristin Walcott-Matthews has joined the firm, continuing their growth in the yacht sales market in the New England area.  Kristin will be based out of the Newport office with a goal of getting more women on the water. She is currently working towards her USCG captain's license and is an American Sailing Association instructor with the Narragansett Sailing School in Barrington, RI where she teaches adult sailors ranging from beginner to those preparing for a bareboat charter. Kristin has extensive knowledge of canvas and sail repair, diesel engine maintenance, boat systems maintenance and passage planning. 
Kristin comments "Matt was my broker four years ago when I was on the hunt for my current boat and was introduced to Ryan around the same time. I was so impressed with their knowledge, transparency, and passion for the industry. Matt suggested back then that I should consider becoming a yacht broker, and I am so thrilled to have finally made the leap!"
Latitude is a Certified Professionally Endorsed firm, is Florida licensed and bonded and specializes in the brokerage of select Cruising, Racing, and Offshore Sailing Yachts, as well as Down-East style Cruisers, Trawlers, and Motor Yachts.  Additionally, Latitude Yacht Brokerage operates an office dockside in Newport Harbor on Goat Island, allowing us to better serve our clients by offering a full array of services and convenience.  
Our goal is to build your confidence and gain your trust as we orchestrate the purchase or sale of your boat.  We are ideally located in the yachting center of the northeast, and will provide you with outstanding service and support.  
Please consider us.  We won't disappoint you.
Contact
Kristin Walcott-Matthews
401-835-0311
kristin@latitudeyacht.com