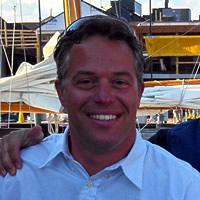 Fast Growing Brokerage Company Strengthens Resources
Newport, RI – Latitude Yacht Brokerage (www.latitudeyacht.com) announced today that Matthew Leduc has joined to form a formidable powerhouse in boat sales in the State of Rhode Island. Matt comes with a wealth of industry knowledge and experience, having spent nearly 20 years coming up through the ranks learning, listening and honing his skills to become one of RI's leading yacht brokers.  Matt joins Latitude Yacht Brokerage, with his friend Ryan Miller, and is looking forward to working with fellow brokers Tim Norton and Tom Miller. Matt comments – "Ryan and I have worked together for years, always speaking about the industry and how we can help move it forward in this new economy. We are constantly collaborating on how to handle the aging fleet, how to grow boating in New England and introduce people to a wonderful, fulfilling lifestyle."
Latitude, based in Newport RI, specializes in the brokerage of select Cruising, Racing, and Offshore Sailing Yachts, as well as Down-East style Cruisers, Trawlers, and Motor Yachts. Additionally, in nearby Jamestown, we operate an office at Conanicut Marina, allowing us to better serve our clients by offering a full array of services and convenience.
If your goal is to sell your boat, we have the resources to locate a qualified buyer and represent you in all aspects of the sale, striving for your satisfaction through to the final sale. If your goal is to find that ideal boat, we are here to support and assist you in realizing your dream. Whether you are a new sailor, a classic boat enthusiast, or a seasoned yachtsman, we anticipate the critical stages of buying, and we will steer you toward the day when you navigate to open water.
Our goal is to build your confidence and gain your trust as we orchestrate the purchase or sale of your boat. We are ideally located in the yachting center of the northeast, and will provide you with outstanding service and support.
Please consider us. We won't disappoint you.
Contact
Latitude Yacht Brokerage
401-560-0007