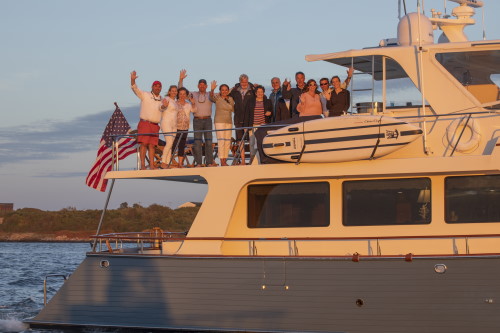 Known for excellent customer service and long-lasting business relationships that are more like friendships, Latitude Yacht Brokerage in Newport, RI recently celebrated our 10th year in business with a cruise on a beautiful 72' Marlow during the Newport International Boat Show. A huge thank you to the crew of Halcyon Seas, Latitude's charter broker Sue Gearan and Carol Kent Yacht Charters for hosting a great celebration.
Latitude was founded in 2009 in the height of the recession and has strived diligently for 10 years to provide a great service to our clients. We are amazed at the strength of these relationships and will strive to uphold the traditions of integrity and honesty that has allowed Latitude to build these business friendships. We want to continue the high levels of customer service and even raise the bar higher.
The entire team at Latitude is looking forward to the 2020 boating season and we are ready to assist buyers and sellers with a professional brokerage services. Please discover the difference that is Latitude!