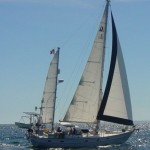 "As a first time buyer choosing a broker felt like a game of chance. I initially contacted two brokers and the contrast between them was enormous. Ryan Miller of Latitude was great. He spent time to identify my needs and then helped work up a shortlist. His help and insight during the viewings was invaluable. Once we found the right boat Ryan was careful and thoughtful in handling the negotiations and closing the sale. Throughout the process he was also patient and helpful with all my rookie questions. The next time I need a broker it's Ryan Miller without hesitation!"
Client:

Nick Barret

Boat:

S/V "Blue Skye" Hallberg-Rassy 42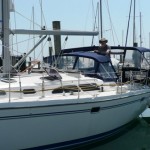 "Trying to find the right size boat that I could afford took a couple of years. I met Tim Norton at the Boston Boat Show and we talked at length about the pros and cons of different Catalina models, and new versus used. When I finally zeroed in on the Catalina 35, Tim helped me consider various boats on the market, and I made it clear that I needed him as my "buyer broker". Tim's easy going style and willingness to answer my many questions was just what I needed to make a purchase. I was easily walked through the offer, negotiations, survey, and closing. Tim even loaned me his polisher after the closing to wax the hull. Lucky for me, he also came along on a sail a few weeks after the purchase. His experience came in mighty handy when we were surrounded by dense fog, and that was a first for me. Glad he was there! No doubt I would recommend Tim as your broker when you purchase that next sailboat."
Client:

D. Michael Rice

Boat:

S/V "Mintaka" Catalina 350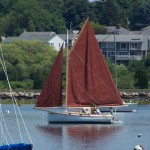 "Ryan Miller and Latitude Yacht Brokerage exceeded all my expectations. The outstanding service made smooth sailing out of buying and maintaining a boat- from finding the right boat that met our needs to all the details involved with owning a boat – a daunting and challenging course to navigate after 40 years away from the helm. He guided me through the uncharted waters of boats for sale, P&S paperwork, boat inspection, transport, finding the right marine facility and mooring, recommending outstanding marine trade craftsmen, registration, new rules and regulations, new electronics and safety equipment, even advice on harbors, anchorages, and hurricane preparations.
Not satisfied with simply making a boat sale, Ryan has continued to provide truly rare and extremely valuable yacht owner concierge services after the purchase and sales that allowed us to enjoy our boat to the fullest from our very first sail – knowing there was someone with a friendly answer or advice to all our concerns and "new parent" worries. I recommend Ryan and Latitude Yacht Brokerage to anyone interested in purchasing a boat or owning a boat and looking for answers or services."
Client:

Peter Howland

Boat:

S/V "Popi's Cat" 22' Marshall Catboat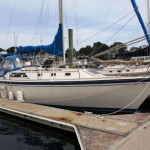 "When I set out to buy an upgrade from my 28′ sloop, I had a couple of models and lengths in mind. The search seemed to immediately provide more questions than answers, and I became less sure and more anxious with each viewing. Enter Tim Norton and Latitude Yacht Brokerage.
Tim was relentless in his efforts to find my ideal boat, and we looked at a dozen or more candidates. He seemed to have an uncanny skill for exposing problem areas if they existed, had good, sound advice on whether repairs were really worth the purchase price, and guided me to make informed decisions all along the way.
He truly gave me a clinic on the RIGHT way to go on a boat hunt, and I learned much about both boats and sailing along the way. When he finally discovered MY boat, I realized immediately that this was the one I was looking for, and knew without reservation that my search was over. Not only did he find my boat, but he guided me through the entire purchasing process, found a great marine bank to finance the boat, handled the closing, and turned the whole experience from stressful to delightful!" Thanks, Tim!"
Client:

Jefferson Johnson

Boat:

S/V "Sound Advice" O'Day 35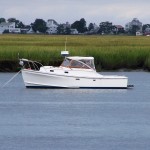 "I bought a Cape Dory 28 through Latitude Yacht Brokerage this summer and can say that my dealings with Ryan throughout the showing, survey, and sale were terrific. Ryan was unfailingly helpful and his efforts went a long way to making the entire process a pleasure."
Client:

Ron Smith

Boat:

M/V "Truant" Cape Dory 28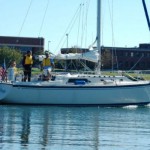 "As first time boat buyers we were novices. Tim was patient and took his time explaining the pros and cons of certain boats. We originally we were going to go with a Massachusetts based broker closer to our residence, but Tim's responsiveness, knowledge and thoughtful demeanor quickly changed our minds. Tim's love of sailing clearly showed through in every conversation and the many boat showings. He was patient with our many questions and thoughtful in his responses. Tim also assisted with areas outside the normal boat purchasing process—from service on the boat to how to get the boat back to Massachusetts. We highly recommend Tim and look forward to working with him in the future."
Client:

Elissa Flynn-Poppey and Tom Poppey

Boat:

S/V "Sonny Days" O'Day 34